Hexagonal tiles experienced a rise in popularity during the 1940s. Many homeowners and designers took advantage of their unique shape and found new, creative patterns across floors, bathrooms, kitchens, bedrooms and other spaces in the home. The 1940s were the decade of focusing on the arrangement of tile instead of the cut and shape of the tile. Before this decade, homeowners were drawn to bright, decorative tile designs inspired by Art Deco. As we see a rise in demand and popularity for this organic shape, we want to inform you on six things you should know about this six-sided uniquely shaped tile.
– Hexagon tiles offer a more flexible solution in a small or awkward shaped areas you are designing drawing your eye away from any imperfections.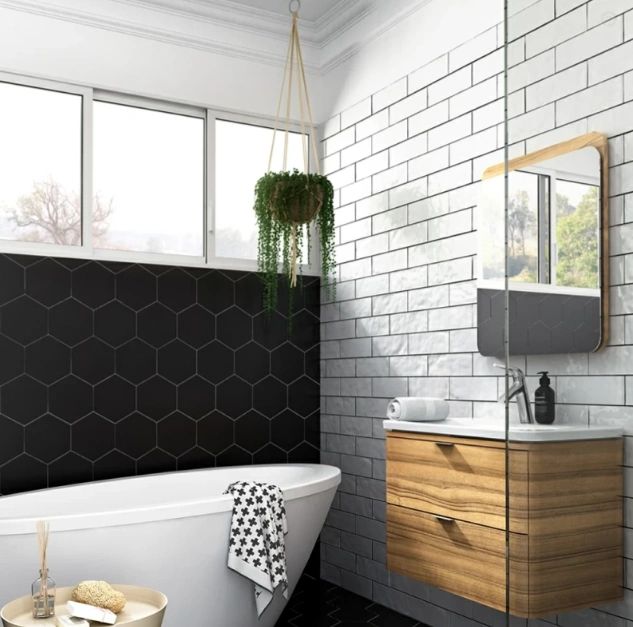 – Hexagonal tiles fit into any design aesthetic from Industrial to modern to farmhouse all because they are available in such a wide range of colors, finishes, and styles. Use hexagon tiles in kitchens to create a feature backsplash with a fun and creative mosaic or go bold with black hexagon tiles in a sleek, minimalist master bathroom.
– Create a beautiful line that is more interesting and less harsh than a 90 degree but doesn't stray away from the visual precision in your design.
– If you're looking for a bigger statement adding larger hexagon tiles amplifies a space not only giving it a fresh enticing look but creates a more seamless appearance due to fewer grout lines.
– Hexagonal tile is the easiest tile to express your personality and separates your design from the rest.
– Hex tiles are practical, pretty, and relatively inexpensive, so they're showing no real signs of waning in popularity anytime soon!
When it comes to using hexagon tiles, there's no limit to the number of designs you can think up. These twists on traditions will stun and create any style you can desire. No matter which hexagon shapes appeal to you, hexagons are here to stay – so have fun creating the design of your dreams!