One of my favorite times of the year is fall – when family and friends all gather in the kitchen for fun stories, cooking, and togetherness. But when these events come up, I always find myself struggling to figure out how to cook for a crowd, and entertain at the same time without loosing my mind! If you know me, you know that I am not a good multitasker when talking is involved. Not to mention that around this time of year there are often just too many guests to all be able to sit down at the table for a formal dinner and I find myself with building anxiety over where everyone will sit. And with every dirty dish, instead of enjoying time with my friends, I am dreading the end of the party, not because I will miss my guests, but because I don't want to deal with the cleanup when they're gone. I was always thinking, "There has got to be a better way!"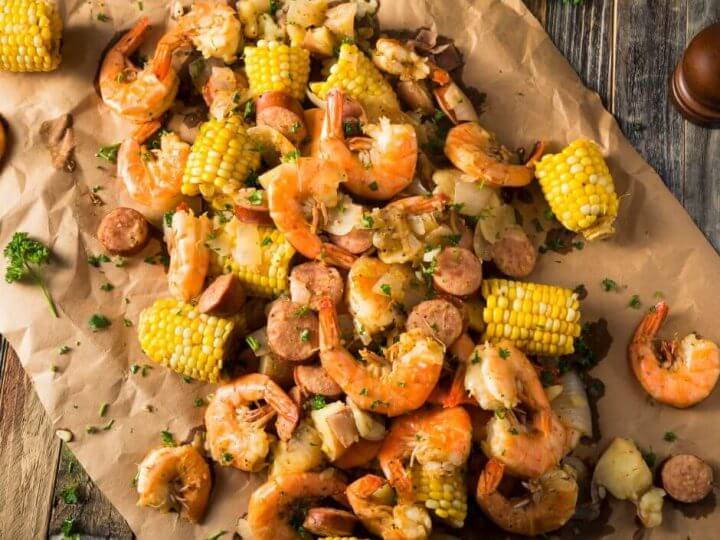 May your home always be too small to hold all of your friends!
-Irish Blessing
This is where the design of a kitchen is important! I love and adore my big island, and it serves my family well for entertaining and everyday life. But it comes in even more handy with todays trends of charcuterie, and butter boards, and casual dining. Recently we were at a friends house in Charleston, South Carolina, where they took this idea a step further and I will never look at entertaining the same. As usual, all of the friends had gathered in the kitchen anxiously awaiting dinner to be served. All of the sudden, the host turns the corner from cooking out back with a boiling hot pot of the most delicious smell. He then promptly dumped said pot right onto the countertop (which I thought was covered in butcher paper to be trendy, but quickly realized was pure genius!) and simply said, "DINNER IS SERVED!" We all looked at each other with a bit of shock and amazement while his wife threw out bread on the table in the same manner, and handed around a roll of paper towels and a few small dishes of melted butter. The pile of food before us included pounds of steaming shrimp, crab legs, potatoes, onions, and corn on the cob. Once the first few brave soles dug in hands first, the rest of us followed suite. I stood there for a moment in amazement at everyone standing around this very well appointed island in the middle of this beautiful home, having dinner in the most fun and exciting way. No dishes, not utensils, no hassle. We laughed, we cried, we enjoyed each other's company and we really learned more about each other that night than ever before. The lack of formality and stress made the night! And when it was time to clean up, we rolled up all the shells, and remaining scraps into the butcher paper, tossed it all into the trash, and THAT WAS IT! Neither the host, or the hostess was singled out of the rest of the evening stuck behind the sink of dirty dishes and they, too, enjoyed the end of the evening with their friends. It was amazing! And from then on, I've been looking at my kitchen island in a whole new way – always trying to figure out how else we can use it to maximize our time with our family and friends.