Goodbye grey and white. Hello statement pieces! With the new year in swing, what better time to start thinking of ways to renovate, refresh, and organize your life. And, where better to start than the heart of your home – your kitchen! These 5 design trends are sure to inspire you to be a better and brighter you – or at least have a better and brighter kitchen in 2018.
1
Blue and Green Cabinets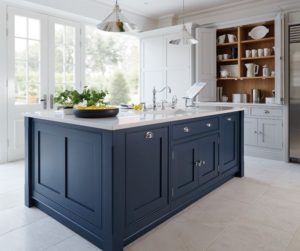 According to Stephanie Pierce, director of design & trends at MasterBrand Cabinets, "Blues and greens emerged as 'go-to' color choices for cabinetry in 2017. They are being mixed with other colors, complementing wood stains or even being used as the dominant color alone".
Blue and greens made a splash everywhere from high-end design firms to almost every kitchen show on the DIY and HGTV networks, and we think this trend is here to stay. These colors offer a way to bring a unique but classic element to your home that will capture your guests attention and offer a timeless complement to all of your interior designs through the years.
We are a proud distributor of MasterBrand Cabinets, carrying the FULL lines of Aristokraft, Kemper, and Decora – not just the limited lines you'll find at the box store showrooms. We also offer fully customizable lines of Kraftmaid and Tischlerei cabinetry and our team knows all of the design trends and can help customize your space to meet your kitchen goals that will last for years to come.
2
The Color of the Year Is….. Purple!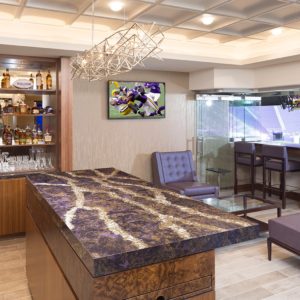 Ultra Violet to be exact. Pantone announced that the 2018 color of the year is Ultra Violet, stating that the vibrant choice is "complex and contemplative" and that "Ultra Violet suggests the mysteries of the cosmos, the intrigue of what lies ahead, and the discoveries beyond where we are now. The vast and limitless night sky is symbolic of what is possible and continues to inspire the desire to pursue a world beyond our own".  Pantone, which clams to be "the global color authority," began announcing and naming a "Color of the Year" starting   in the new millennium, finding trending colors from all over the world, in everything from cosmetics to cars.
Well known, American-made, and luxury quartz supplier Cambria even announced a partnership with the 2018 NFC North Division champion Minnesota Vikings in 2017, fueling "Purple Pride" by offering created 11 bold, custom Minnesota Vikings-inspired quartz designs, many featuring rich purple tones in unique marbling and veining. The custom designs are installed in premium clubs and suites, including The Medtronic Club, Mystic Lake's Club Purple and Delta Sky360 Club. With their  PRINCETOWN™ quartz, one of the striking Viking designs, you can even bring some of the "Minnesota Mirale" into your home! Weather it be Ultra Violet purple quartz from Cambria, or a more neutral design choice, our team is standing by and able to show you almost any color of quartz you can dream of from all of the leading brands.
3
Make a Statement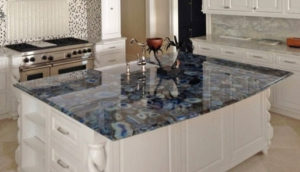 Move over white quartz – the 2018 renovation year is all about making a statement, and we think this is a trend that will continue for years to come. One way to get this done is to make your kitchen island a conversation starter, a piece of art, and a way to add drama and style to your new space. Whether it be a stunning blue agate counter top like this stunning accent island, or a waterfall granite edge with dramatic contrasting veining, find a piece that really speaks to you and bring some character into your home with this easy step.
Because natural stone is so unique, it is impossible to keep true, up-to-date samples of what's available, in our showroom.  But not to worry! Ware partnered with all of the local stone yards, and can easily help guide you on your search for the piece that speaks to you. Just swing by our office for a list of our partners, and we'll offer some guidance on how to best search their inventories, get your actual piece picked out, held and delivered to our fabrication facility, and eventually installed in your dream kitchen.
4
Dark Countertops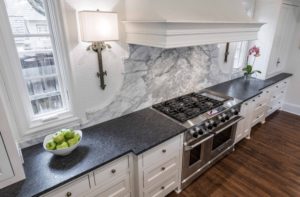 If you can't get on board with the high-drama statement pieces, maybe a more subtle and classic approach is more your style. Luckily the 2018 trend of dark countertops is a classic look that not only has stood the test of time, we know it'll continue to be a popular option for years to come. And, to add a touch of flair, most the darker natural materials can also be honed, or leathered on the top surface or chiseled on the edge for  a way to add some different texture and uniqueness to your project.
5
Mix and Match Finishes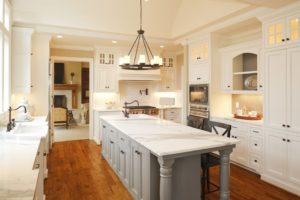 According to Sue Wadden, the director of color marketing at Sherwin-Williams, this year, it's all about mixing and matching color. And, this is nothing new. The days of a monochromatic kitchen design are a distant past and our clients love mixing and matching to make a boring kitchen something to talk about.
Using multiple colors will continue to be a popular trend this year – from darker lower, and lighter upper cabinets to contrasting colored islands, we want to help you make your new kitchen something to talk about. Luckily, the style is the limit with our fully customizable cabinetry lines. We can achieve this look with contrasting stains, or multiple paint choices, or a combination of both. Decora by MasterBrand Cabinets, will even allow you to choose a custom color from ANY one of the Sherwin-Williams paint colors, or even match to your favorite throw pillow… if you can dream it, we can do it!